Dental Implants in Toronto
At Toronto's Uptowne Dental Centre, we use implants to replace your missing teeth, to repair the overall functionality of your teeth and bite and to alter the aesthetic appearance of your smile.
What are Dental Implants?
A dental implant is a permanent replacement for a missing tooth that is surgically attached to your jawbone using a metal post or screw. Unlike dentures or bridges, an implant will not come loose because it is surgically positioned, or implanted, into your jawbone. Over time, bridges can be damaging to the surrounding natural teeth. In contrast, implants prevent the breakdown of the jaw bone and muscles that often occur under a missing tooth.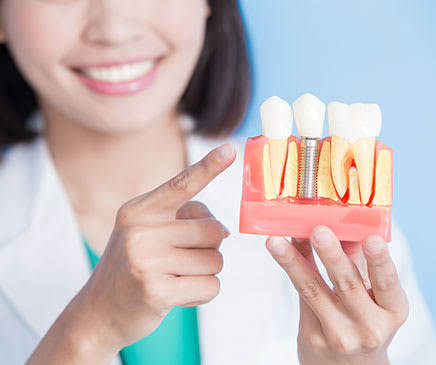 Dental Implants in Toronto: Are they right for me?
A dental implant may be right for you if you:
Have missing teeth
Have a fully-grown jawbone
Have enough bone to secure the implants or to have a bone graft
Have healthy oral tissues
Are unable or unwilling to wear dentures
Are interested in improving your speech
Are interested in improving your ability to chew
If you have missing teeth and are interested in a permanent implant to replace them, contact us to learn more.
The Dental Implant Procedure in Toronto
The first step in performing the implant procedure involves cutting open your gums to expose the underlying bone.
The dentist will then drill into the bone where they will be placing the metal post.
Once the post has been placed in your jawbone, your dentist will send you home where you will wait a few weeks or months for the bone to heal and create a solid foundation for your new permanent artificial tooth.
When you return to your dentist, they will then place the permanent tooth.
The implant procedure is usually performed under a local anesthetic and is relatively painless and comfortable.